First, I just want to say thank you to everyone who helped spread the word about The Roth IRA Movement! Yesterday was a great day and hopefully more young people are now aware of how important it is to SAVE! I'm so proud of my husband for having such a passion to teach and educate on this topic!
*In case you missed his dancing skills to LMFAO, just click on over to his Roth IRA Movement video and see how awesome his moves are. And his duck face.
It's week FIVE of Stop and Smell the Roses! Can I get a what-what?!
Today I am incorporating "So What Wednesday" in my post.
Why?
Because SO WHAT if I love Shannon from Life After I Dew and thought it would be fun to do TWO link ups in one?!?!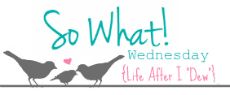 So……………..
*You'll need to watch the vlog to understand my so-what's*
So what that I don't have awesome hair. That's why they make damage remedy! Duh!
So what that I filmed my vlog outside today and you can see the school buses in the window reflection. It's flippin' gorgeous out!
So what that I want to sponsor EVERY single child through Compassion. I can't help my love for children!
Links to things I referenced in the vlog:
– 
Damage Remedy
– Sponsor a child through
Compassion
– 
Meet
the child we sponsored
– My blog friend
Jodi
that just recently sponsored a child – The best DM I have ever received!  
I can't wait to watch and see what your smiling about this week!
If your interested in joining us every Wednesday for Stop and Smell the Roses please check out my vlogging page! We would love to have you!
In case your not already…I'd love if you would follow me!
Join us by linking up!